Our all inclusive offer for Erasmus+ student mobility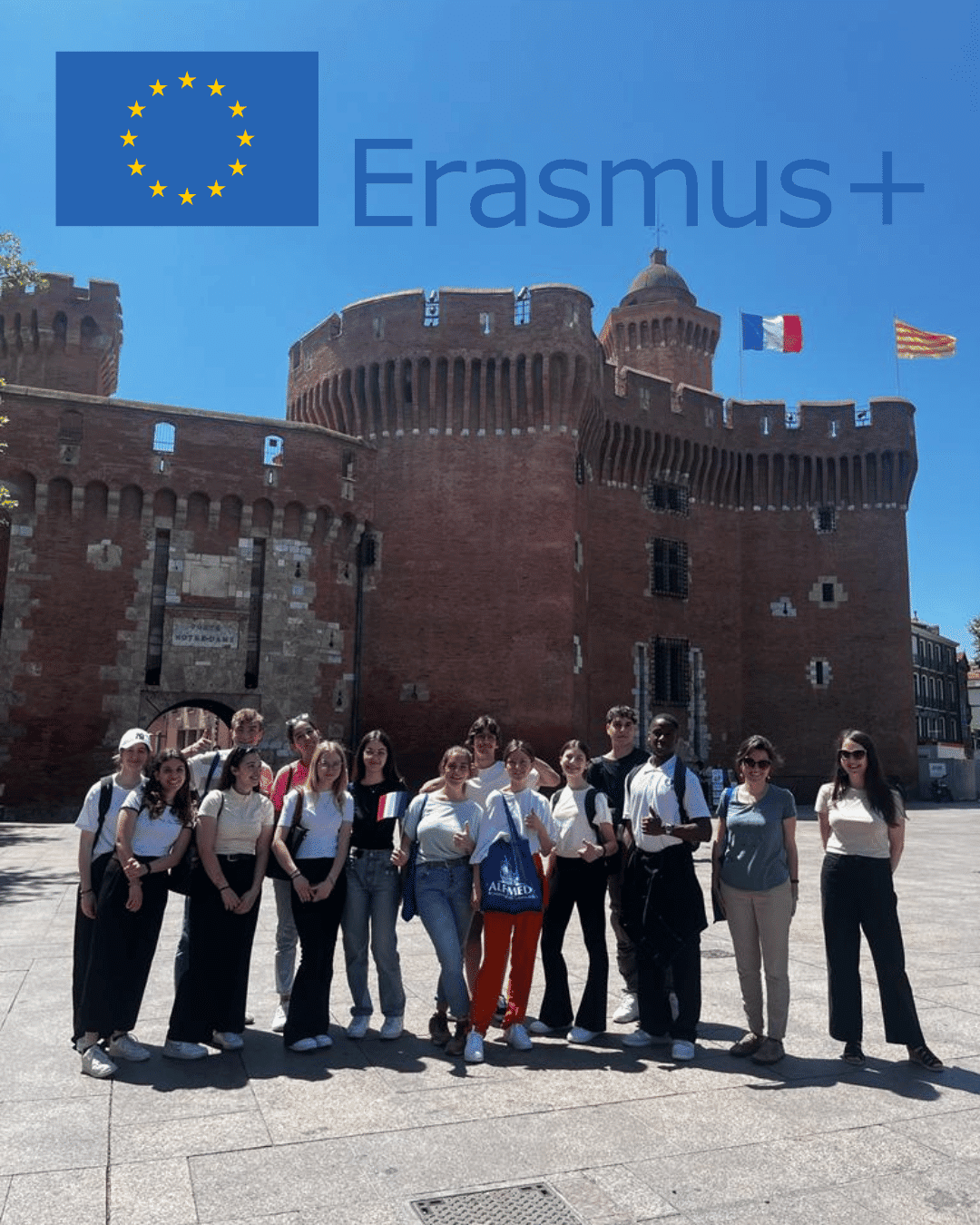 What we provide to you from preparation before the mobility to the Final Report at the end of the mobility :
– French lessons and professional interview to be fully integrated into our service/budget
– Numerous internships in a wide range of business sectors in the Perpignan region (500 host companies)
– Internship tutoring, assessment of language knowledge and prior learning
– Training certification: training agreement, company certificate, Europass mobility
– MoU and ECVET (European Credit system for Vocational Education and Training) assessment
– Accommodation in the city center, several possibilities : DISCOVER OUR ACCOMMODATIONS
– Transfer upon arrival & departure
– Local transportation
– Socio-cultural activities
– 24/7 full support
What we ask you to provide us for managing the mobility : a precise list of the partcipants profile – age – accompanying person (not obligatory) – detailed CV's including an ID picture
The key phase of the work based learning: Matching phase
– Professional objectives identification thanks to a specific Questionnaire on Google form (we have specific ones for cooks and nurses)
– French test online thanks to our specific ALFMED language test  >> French is not obligatory. Students can speak English / Spanish
– Expectations and motivation assessment thanks to a Zoom meeting interview to ease the matching process
– Discussion with ALFMED network of Mentors (700 hosting companies) to validate and confirm participant's placement
THE DAYS OF ARRIVAL: WELCOME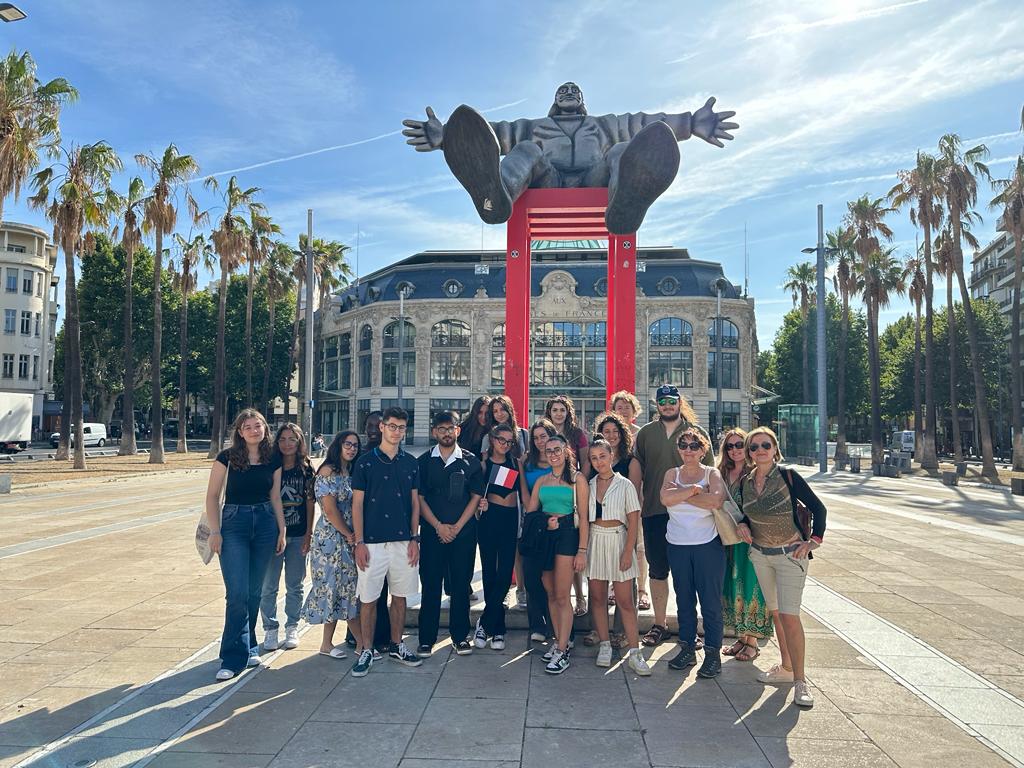 ALFMED staff takes care of welcoming students at the train station or at Perpignan airport and takes you directly to the accommodation. Local transfers from other airports (Girona & Barcelona – Toulouse & Carcassonne) are available on request.
All transfers and reception are provided by the staff of the Academy.
After settling into the accommodation, the student receives a file "the arrival pack". It contains all the documents necessary for the stay:
first week schedule
social activities in Perpignan
ALFMED district map to show all facilities
Accommodation rules – WIFI codes
practical information and maps of the region
all social activities carried out by ALFMED as well as the selection of cultural events in the city are displayed on the ALFMED Facebook
ALFMED students use WHATSAPP groups to interact 24/7 with ALFMED ERASMUS team
THE FIRST DAY AT THE ACADEMY: TUTORING APPOINTMENT + CV WORKSHOP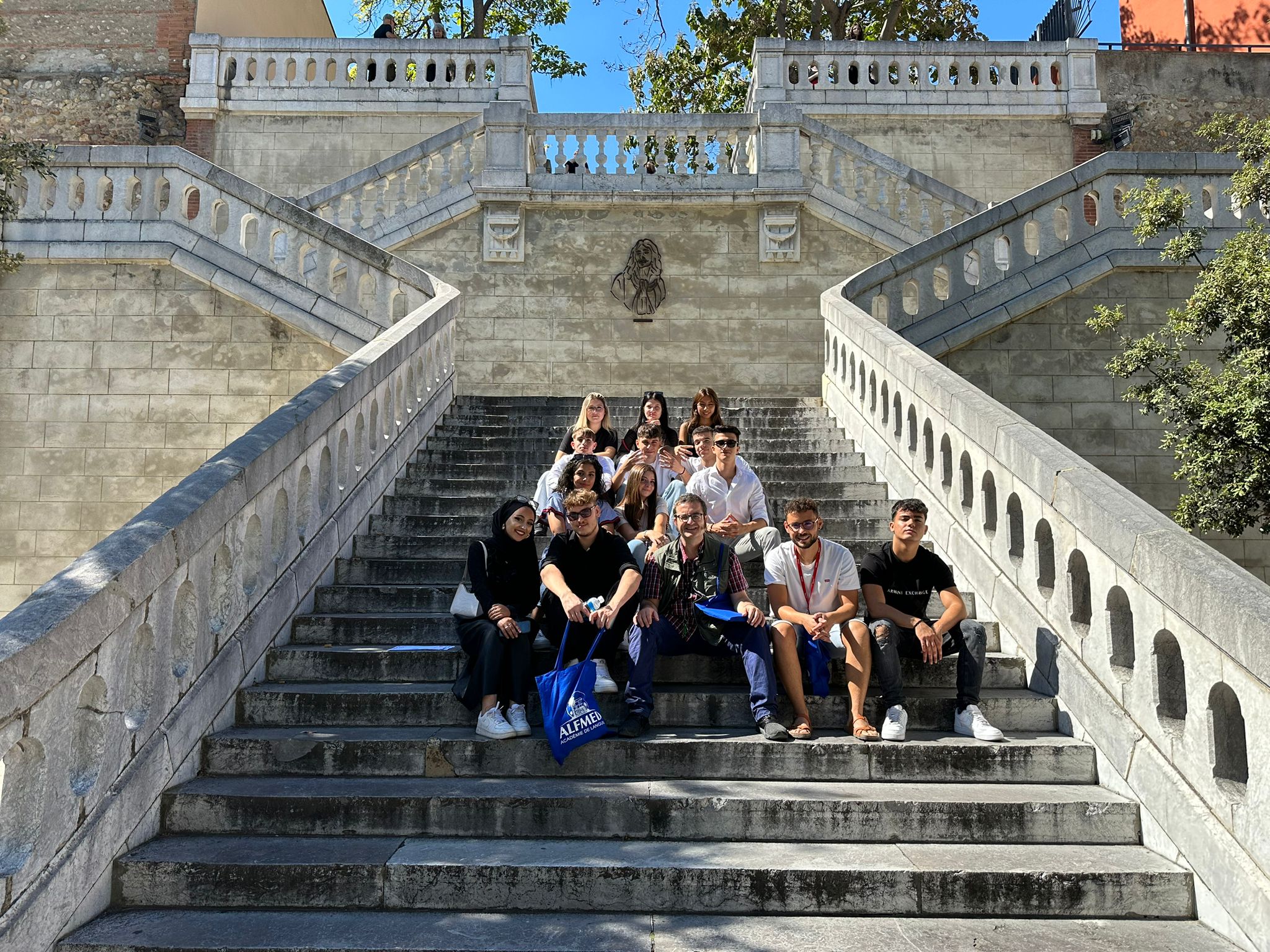 ORAL CV WORKSHOP  in French
Preparation of the student for the first meeting with the company. The essential points for the oral presentation are made with our internship tutor during a 2-hour workshop. At the end, students have a mock interview with ALFMED staff: personal information, language skills, academic and professional background, motivation and expectations, advice on French culture and intercultural communication…
Once a month we organize a SKILLS#Eu workshop among Erasmus+ students so that they can experiment and practice multicultural communication, a cool experience to break the ice!
Template EDT Erasmus_ our induction program
The second day at the Academy: Internship meeting and city tour
Internship appointment: ALFMED staff brings the intern to the host company for the internship interview with the mentor. The interview allows a valuable informative contact with the Mentor of the company: presentation of the intern, definition of the working conditions: tasks and mutual expectations, calendars and schedules, dress code for the internship, short visit of the company…
Regarding accommodation:
- check if everything is correct
- conditions and rules to be respected
- signing documents
- payment of a deposit of 50 euros for the keys

About the internship:
- internship tasks
- Company Description
- information about the mentor
- how to join the company

Visit of Perpignan with the cultural coordinator: short tour of the city and the attractions of the city's cultural life
DURING THE INTERNSHIP: MONITORING AND TUTORING OF PARTICIPANTS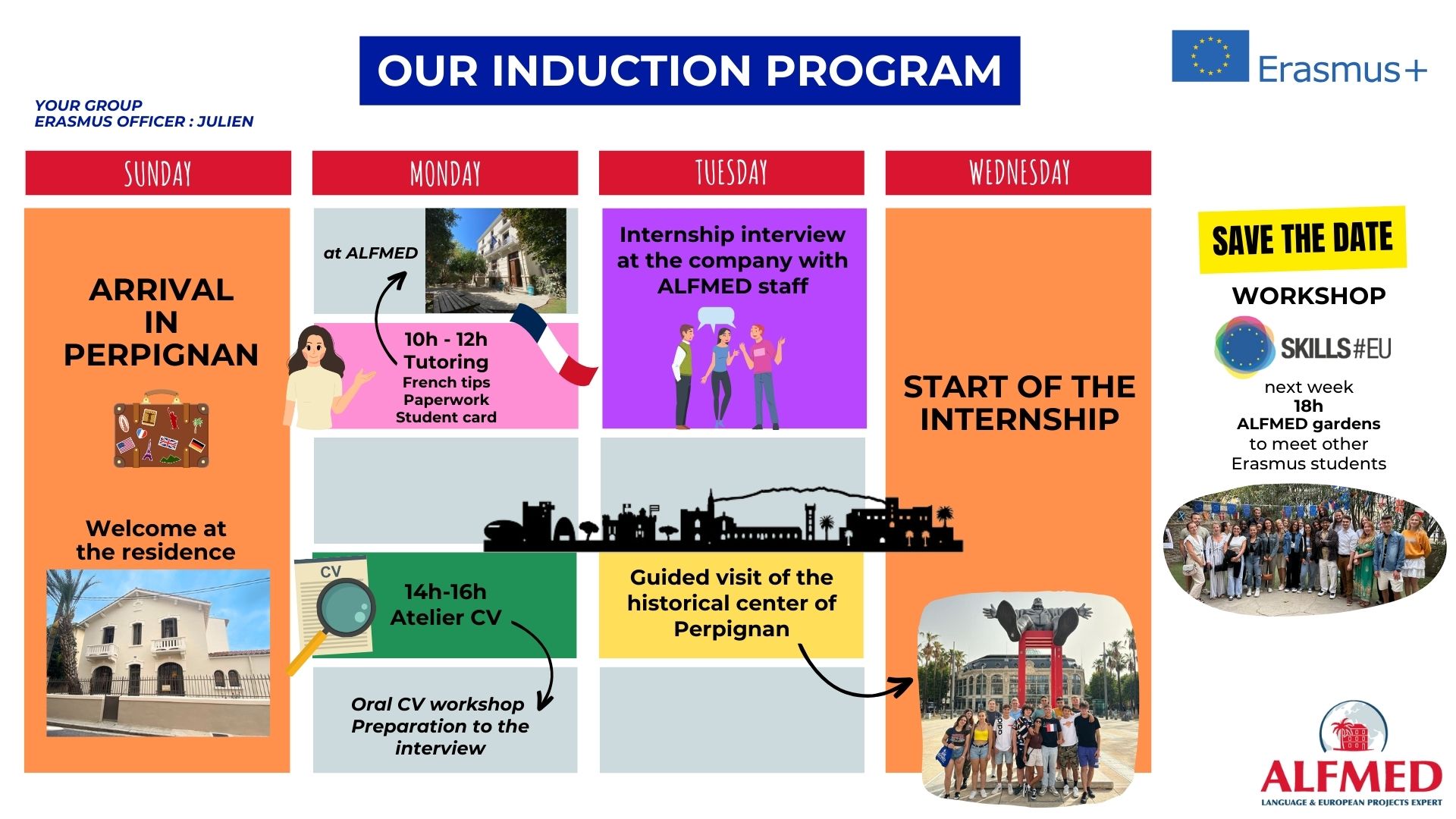 ALFMED staff provides participants with a 24/7 emergency number.
The follow-up of the internship is done every week by email or by direct contact (easy because the residences are all 5 minutes from the academy). In the event of a problem with the mentor, the staff knows how to react very quickly and find solutions.
For long programs (more than 4 weeks), a transcript and an evaluation in French are carried out at ALFMED
AFTER MOBILITY 
Ensure the correct validation procedures in order to allow the recognition of the skills acquired by the participants: Transcript of marks of the intern, certificate from the host company, Europass Mobility, French language certificate according to the European language framework, etc.
French language assessment conducted on the last day of the program by our staff
the assessment certificate (ECVET: European Credit System for Vocation Education and Training° is provided by the company mentor and verified by our staff
feedback on quality against sponsor objectives dissemination and transfer of results
Final Report to detail all activities conducted during teh Mobility program : to be used for your ERASMUS+ REPORT closure
Florence Delseny Sobra: General Manager
Julien VERITE – Erika leone and Nataliya malakhova : our ERASMUS+ team dedicated to European projects